CHAINSAW ARTISTRY
FOR YOUR SLOT MACHINE
. .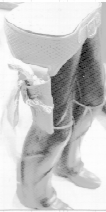 ---
For most of us the chainsaw conjures up images of terror. Ever since the now classic cult movie Chainsaw Massacre hit the movie screens, horror movies have featured the chainsaw. If you want to make the audience scream in terror show someone waving a chainsaw. As a result, now-a-days, people have nightmares whenever they see a chainsaw.
For some, the Chainsaw is an instrument of beauty. A small number of artists and craftsmen have learned to use the chainsaw to create works of art. They use the chainsaw as the sculpture uses a hammer and chisel. Step-by-step, with great care and precision, they slowly, but surely, shape a nondescript object into appealing art forms.
One of these chainsaw artists is a familiar face in the world of slot machines. He is Dick from northwestern Pennsylvania, a premier craftsman who has shared his wood-working skill with slot machine collectors around the world. For those of you who donít know, Dick carves the most impressive and beautiful character slot machines around.
Most of us who have admired Dickís work for years didnít realize that all of Dickís artistic creations are initially carved with a chainsaw. Blocks of wood are glued together, cut into roughly shaped arms and legs, and then with the use of a chainsaw and chisel carved into realistic human looking models.
Dickís use of the chainsaw was so impressive, that the McCullock Chainsaw Company, one of the nationís leading manufacturers of chainsaws, featured Dick at their booth in a national trade show. Thousands of visitors marveled at the process Dick uses to create his lifelike character slots. Dick has carved character slots for Hollywoood celebrities and his carvings were recently featured on the Regis and Kathy Lee show when they displayed the best Christmas gifts you can give.
If you want a chainsaw work of art to decorate your gameroom, youíd better hurry, because they are only a couple of artists who still carve them the original way, and as a result there are not many around. After you see Dick at work, the image of the chainsaw is revived and the nightmares go away.
To See Character Slots, go to: Character Slot Machine Web Page.