The Many Faces of Slot Machines
From Large Color Wheels to Character Slots
. . . . .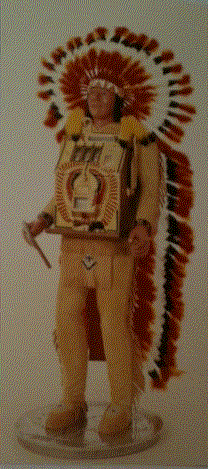 ---
Over the years, manufacturers tried to make their slot machines more attractive and attention getting. At the turn of the century, the large color wheel slots, with their rich wood cabinets and decorative cast iron trim, were especially imposing.
In the 1930's, slot machine manufacturers competed with each other, much like today's auto makers to come out each year with a new model featuring a new eye-catching aluminum casting.
In the 1940's, manufacturers introduced electric console slots that featured large, highly colorful silk screen glasses (similar to pinball glass) that light up to attract you.
In the early 1950's, Frank Polk out did everyone else when he carved life-size statues of cow boys to hold slot machines. These imposing figures stand out in any décor and are the most sought after slot machines around.
When slot machines were made illegal in 1951, the creativity of slot machine design ended. Fortunately, in the 1970's, when collecting antique slot machines was becoming popular, the laws were changed to allow people to own an antique slot in their home. Although new slot machines could not be manufactured for home use, artists and craftsmen were allowed to, once again, carve life-size figures to hold the antique slots. Creativity once again entered the market place.
In the 1980's, character slots are being carved not just of cow boys and Indians, but of gangsters, soldiers, and almost of any character from our history that you can imagine. This means that, now-a-days, you can be the slot machine designer. Let your imagination go wild and select a machine that resembles a pirate, cop, or your favorite sports figure. You can pick the design that best fits the décor of your game room.
One of the most prominent craftsmen in the country today has been carving wood character slots out of large pieces of wood, handpainted, and dressed to create just the image you want. They are even designed so that they can be shipped by UPS anywhere in the country.
To See the Character Slots, go to: Character Slot Machine Web Page.
Copyright: 1996 Ken Durham.
---
.
.

.
---
Go back to Sales Lists, Wanted Lists and Trade Lists menu.
Go back to GameRoomAntiques
For more information on: Who We Are & Our Privacy Policy
Ken Durham
GameRoomAntiques
3000 Galloway Ridge, C-306
Pittsboro NC 27312
For Orders Only: 202-213-1585
All others, please email: durham@GameRoomAntiques.com

http://www.GameRoomAntiques.com